I have no clue to what the future holds, and it bugs the heck out of me.
To catch you up in case you're just joining us, earlier this month I started posting here on THE HAPPY ROCK detailing my journey to a debt free life. Everything was going along nicely. I was opening up about my personal finances, and you, the HAPPY ROCK community, were giving great comments/ideas to help me out.
Then last week, just when I was putting the semblance of a plan together, I lost my job.
It was a shock to say the least.
I think I'm just now coming out of the daze I've been in (Which is too bad, because the local tennis tournament was this past weekend and I stunk up the joint. People came up and wondered what was wrong and I just shrugged and said it wasn't my day. Part of me wanted to say that I might be a little preoccupied about how I was going to take care of my family instead of worrying about my backhand, but I figured nobody really cared).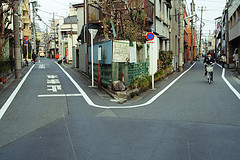 After yet another wasted day yesterday I finally started doing something. Today I contacted two local colleges about going back to school in two totally different fields.
School #1 is a state school and I'm interested in their teaching program.
School #2 is a private school and I'm interested in their Radiological Tech program.
I ended up having to apply to both schools because the people I spoke to on the phone kept stressing that they'd be able to assist me better after I did so (I secretly think that their job is too get people to apply and they don't really care about me or the questions I have).
I honestly am torn down the middle about which option to choose. I think I'd be good at both, so I'm trying to figure out which one I'd enjoy more. That has been my biggest hang up so far in my employment history.
I've never really had a job that I REALLY liked.
I'm extremely jealous of those of you who do have a career in a field that you truly enjoy. I figure this is a good time for me to take a mulligan and start over.
Admittedly it's not the best time, I have two toddlers running around I have to worry about and a wife who just started her own business (which she loves), but it's as good a time as any.
Of course going back to school, if I go that route, is going to shoot a big fat hole in my debt defying plan, but I'll do my best to limit the damage.
The best thing about being a guest columnist (or whatever my title is) here at THE HAPPY ROCK is that I get to run ideas by all of you. So my question to you this time is:
Have you or anyone you knew been at a similar crossroads, and how did it turn out?
Until next time
-DD
P.S. Thank you so much for all support I received these past few days. It's actually helped me deal with this quite a lot.