This week's stroll around the personal finance posts revealed a great list of articles.
We start with two great articles that talk about on of my most important adjustment to many financial plans, figuring out why you are changing your financial habits and using that to create motivation to carry you through.  Frugal Dad shares identifying the why and RC @ Think Your Way To Wealth talks about developing burning desire.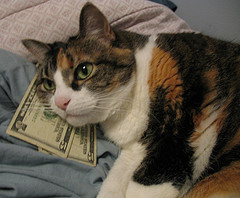 A second Frugal Dad post explores his path to financial maturity by getting rid of his new truck.  Especially relevant, because DD is considering selling his car to aid his debt elimination.
Not The Jet Set shares how their envelope system works.  I often recommend the envelope system as an option for people trying to get a grip on their finances, but I don't have much practical advice to offer since we never went through that step.
Presh at Mind Your Decisions shared how we are a sleep deprived nation and how much it effects us. I covered sleep your way to better finances in April and discovered some more experimental evidence for how much a good night sleeps positively effects my mood, energy, motivation, patience, and happiness.
Squakfox shared 50 reasons to use reusable bags.  I shared how to make profit from reusable bags.
Finally why not to make money with blogging.  I had to include this for my weekly dose of humility as I saw some of myself in that article and the pitfalls.  I often fall back on more common type posts when time is limited.  It is something hopefully the readers haven't noticed, but something I will actively try and change.