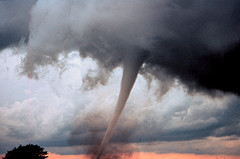 I(DD) went to work yesterday morning and my boss met me as I walked in and suggested we have a brief meeting in the conference room. In my short time at this job I have learned one thing, meetings with the boss in the conference room are not good.
This one sure wasn't.
I was being let go. They were expecting tough economic times in the near future and they weren't sure if I was a good fit for their company. So they decided we should part ways now before things got too complicated.
I was fairly blindsided so I just sat there like a deer in the headlights, nodding silently and saying things like, "I understand." And the ever-so clever, "uh huh."
What I was saying "uh huh" too was my severance package which included two months salary and health insurance for the rest of the year. They may be SOB's, but they are generous SOB's.
But on the bright-side, as I was walking home carry my box of personal belongings, I thought "this isn't so bad, now I'll have time to paint the house."
I'll probably take a few days to do some personal reflection and try to figure what's next. I've been out of work before, but that was different, we didn't have any kids. Everything is on the table this time, from going back to school, working the night shift, to even moving to another town.
I'm fairly open. But I think I have to be.
I'll do my best to stay debt free while going through this transition. I guess, we'll get to see just how good I am at defying debt. We'll be cutting back expenses in the short term.  Who knows, I might even be selling our van after-all.
I know I'm not the only one out there who has ever lost a job, so any advice would be appreciated.
Until next time,
-DD