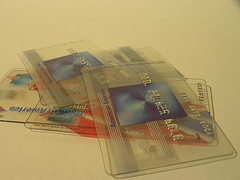 I have already shared my analysis of the best cash back credit card, and for those of us that have the financial discipline and habits to not overspend and pay off the bill each month, credit card rewards can be a nice bonus with relatively little effort.
My question is whether or not the fiscally responsible are living off the debt and fees of the fiscally challenged. Before you dismiss me or get up in arms, let's take a look at the math.
Credit card companies card charge about 2% give or take for interchange fees on each transaction.  By spending about just $1,000 to $2,000 a month on a Chase Freedom card you can easily earn over 2% back in cash.  For someone like me who never pays a penny in fees or interest it seems like Visa is actually losing money.
If they are losing money on me and the rest of the hard core rewards crowd, they must be making a fortune off someone else to compensate. Their profit most likely come from people who get rewards card for the cash back or points and end up carrying a balance.  Profits also come from those that are paying late fees, annual fees, and those that get hit with high interest rates.  Finally they also make a profit on transactions that don't have rewards attached to them like regular credit card charges and debit transactions.
Does the math add up? Do you agree? Does it effect the way that you view credit card rewards?