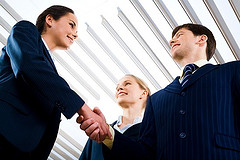 I will keep this one simple. 
Assuming that you just get end of the year raises that keep up with inflation(3-4%), you will be making the same amount in 20 years that you are making now relitave to the cost of goods. Obviously your actual salary will be higher in 20 years, but that salary will buy you the same amount of stuff.   If you started your job at $35,000, in 20 years you will be making almost twice that much at $67,287, but that will be the same as having a $35,000 job 20 years prior.
If this is a scary thought, don't let fear paralyze you, but be motivated by the thoughts of a better position or career.  If you really want to advance your career, get out of debt.  It is a gigantic step that frees you to pursue positions that you couldn't otherwise entertain with the chains of debt holding you back.
Here are two nice articles from the personal finance community to help get you started improving your career :