I talked before about my tipping point for financial change and my tipping point for financial success, but it seems that the US as a nation has finally hit its tipping point at $4.00 a gallon.
To recap, a tipping point is "the level at which the momentum for change becomes unstoppable."[1]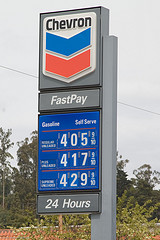 Historically, gas consumption patterns rarely changed despite price increases.  It seems though that the general population has finally resigned themselves to the fact that high gas prices are here to stay.  Things seem to be following the same pattern of the gas crisis in 1978-1980.  The Wall Street Journal is reporting that "with crude now fetching more than $130 a barrel, oil's share of GDP is getting closer to the peak of 8.3% hit in 1980." It was in 1979 that gas demand started to change.  By 1980 consumer auto purchases started shifting to more efficient foreign cars.  Current consumption patterns are slowing partly because we are finally moving away from SUV and trucks.  SUV and trucks still accounted for 47% of all auto sales, but that is down from their peak at 55% in just 2005.  Hopefully the pattern remains accurate and prices will retreat again like they did in the 1980's.
What I really think is happening is that people finally became convinced that they need to deal with the high prices and they were finally willing to make some major changes like purchases smaller houses, cars, carpooling, less driving, biking, or getting more energy efficient.  All of those changes require more planning and lead time and have a larger inertia to overcome, so people weren't willing change because they were waiting for prices to go back down.
Do you see habits changing? Have your habits changed?
*Source – Filling Point Of No Return