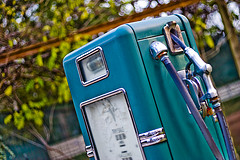 Just recently my favorite Sunoco gas station in Mount Laurel New Jersey started charging different prices for buying gas with cash and credit.  Effectively, they are trying to pass along savings to consumers by charging less for cash.  My station is charging  $0.10 cheaper per gallon on $4.00 gasoline which comes out to a 2.5% discount.  I have always said there are benefits to paying cash, but this wasn't the way I was expecting to see them realized.
At first I was really frustrated as it seemed they have effectively crushed all but the best cash back credit card rewards.   I still get 3 percent back on all gas purchases, so I still come out 0.5% ahead.  That drops my cash back from $108 dollars a year to just $18. It's still better than paying cash, for now. 
It also helped to realize that they didn't raise the price of gas for credit card users, since they are still competitive with other stations.  Before this companies already priced in credit card fees so that they could keep a uniform price.   Now lawmakers and consumers want the cheapest price possible.
Usually businesses went to help people spend using credit cards since people are willing to by more when using plastic, so this may actually work out for consumers.  I suspect it won't do much though since the demand for gas doesn't change much with high prices.  People will continue to charge away.