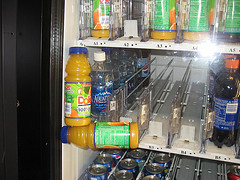 We have all walked up to a vending machine and spotted a candy bar hanging on by a thread.  If it is something you like whatever, you feel like you hit the lottery! The cheapskate in me even considers buying something that I didn't want just so I could get a two for one deal.    Occasionally, you can even shake it free without putting money in. For those that are afraid to shake the machines, just remember that they aren't pinball machines, they won't tilt.  You can really give them a shake.
Come on, you know you have had similar experiences.
It wasn't until a few years ago that I stopped to consider that it might be stealing. Before you get too defensive let's look at the definition of stealing.
stealing – to take (the property of another or others) without permission or right, esp. secretly or by force
I would say taking an item that someone else purchased without their permission from a vending machine would fits the definition of stealing.  There is a case to be made that it isn't stealing, so I would love to hear your justifications.  The reason I think people often overlook that it might be stealing, is because there isn't a clear cut course of action other than ignoring the situation which probably just means the next person will take it.
If you hadn't though about it in this light before, then I accomplished my mission.
If you don't care, put yourself in the shows of the person who spent there last dollar only to see the item get stuck .
If you agree that it is stealing, the next big question is who should we handle the situation?