We have talked about some free workout ideas before, and now it's time that I take advantage of one of them. Sitting behind a computer all day really destroys flexibility, muscle tone, and strength. Even sitting on an exercise ball at work doesn't replace the benefits of strength training.
Along comes J.D. at Get Fit Slowly who is starting the 100 push up challenge on Monday. Here is the his post on the issue and here is a little taste of the call to duty from the 100 Push Challenge website :
Think there's no way you could do this? I think you can! All you need is a good plan, plenty of discipline and about 30 minutes a week to achieve this goal!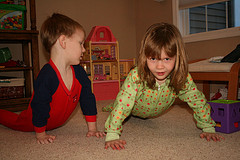 I quickly scanned the site and program and I was in. Push ups = free strength training that can be done almost anywhere at anytime. Plus I only have to commit ten minutes a day three times a week…I can do that. I don't have the time or motivation at this point to get enough benefit out of a gym membership, but this is perfect. This work out is completely free and requires a brief time commitment. Add in the personal competition factor and some friends do it also and I really get motivated.
The response to J.D. post was amazing as about 40-50 people said they are going to do it also. I also was able to recruit a few more people at work. The Rockette and fellow bloggers Flexo and L_buckets are also in. This weekend I will do the initial test, and Monday I will start the 100 push program for week 1.
Anyone else care to join in on the fun?
*Update – I have been at it a few weeks now, you can view my log here to see how it has been going.