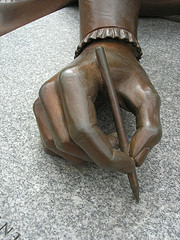 The Happy Rock is looking to expand and bring in a part time writer/blogger. Click here, to read more about the oppurtunity. I would love to find a reader who is in the trenches of debt reduction to augment the article base here at The Happy Rock. The further I am removed from being in debt, the harder it is for me to write fresh content on the whole process. Getting people out of debt is one of the main goals of the site and I think letting readers get a first hand view at someone walking their way out(with coaching) will be a great way to teach, learn, and motivate about debt reduction.
This decision will also free some extra time for me to focus on some different areas of the site and a few other opportunities I have in the pipeline.
If you don't have blogging experience, but love writing and personal finance, don't hesitate to contact me to find out more information. I am looking forward to meeting any interested persons.