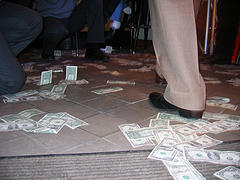 As I discussed whether it's our patriotic duty to consume our rebate checks, I started thinking that I didn't fully understand what the 'rebate' check is anymore. Everyone calls it a tax rebate check, but it seems to have morphed into a handout or something else along the lines. Originally, it seemed like it would be rebate on our 2008 taxes based on our 2007 returns.
It doesn't seem to be that clear cut anymore. Even the language of the media and the IRS website don't seem to mention rebate anymore, just payment. Is it a handout? Is it a rebate? A modified one time tax cut? Let's dig into a few specifics to try and figure out what it really is.
First it isn't taxable income or a rebate, since your 2007 and 2008 taxes won't seem to be effected.  A rebate is a refund for money you paid. According to the IRS :
It's not taxable, and it won't reduce your 2007 or 2008 refund or increase the amount you owe when you file your 2008 return. (1)
The next thing of note is that some groups of people are eligible who don't pay taxes.
Families with children under 17 generally will qualify for an additional payment. Some people with no tax liability also will qualify. This includes Social Security and Railroad Retirement beneficiaries, recipients of certain veterans' payments, low-income workers with earned income and/or benefits of at least $3,000 and individuals who have combined income of at least $3,000 from any combination of these sources. (2)
So there is an element to the stimulus package that includes handouts. Depending on your stance that may be fine, but it wasn't how the original package was 'sold'.
Finally, the benefit starts to phase out for people "with adjusted gross incomes (AGI) over $75,000 and married couples who file a joint return with AGI over $150,000.(3)" Some people will get no stimulus.
So it what it looks like is a one time tax cut, with a hand out portion, for middle and low income people. No rebate, just government borrowing money to hopefully support our overconsumption in hopes that it will stimulate the economy. Overconsumption could be argued as a big reason why we need economic 'stimulus' in the first place. And I thought they had a plan to pay the money back with 2008 tax money…silly me. Borrow and spend without a plan, a basic tenant of solid personal finance, right? Either way, I am personally glad to receive a $1,500 check in electronic mail, but I at least want to know what the money is and were it is coming from.
Source :
(1) – IRS Basic Stimulus Information
(2) – IRS Stimulus FAQ
(3) – IRS Stimulus Phase Out