First things first, making bi-monthly payments on your mortgage WILL cut your mortgage repayment time down significantly. Using bi-monthly payments on a $200,000 mortgage at 6.0% you will have the mortgage paid off 6 years early and save about $50,000 in interest. What happens is that you are paying 26 bi-monthly payments which is the same as 13 monthly payments. In essence you are paying one more monthly payment a year.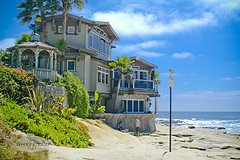 If bi-monthly payments can save you a lot of money, then why do I mention them as a myth? Well, most of the programs that banks offer their lenders are really not good financial tools. Bi-monthly programs are really just budgeting tools that you have to pay extra money for. Most of the programs have a $200-300 enrollment fee and then charge a $2-5 dollar fee each payment. The fees go to pay the company that is handling your payments. That's right, another company other than your lender holds your first payment and then pays the mortgage company when they receive both monthly payments. That is a lot of money for something that most lenders let you do yourself.
Another myth is that you save money because your first payment of the month gets applied early and cuts the amount of interest you have to pay. This isn't the case. Almost every mortgage lender still has the same monthly amortization schedule whether pay monthly or bi-monthly.
So is it worth it? Probably not. The same outcome can be accomplished on your own, by either paying one extra monthly payment a year or paying an extra 1/12th payment each month. As long you make sure the extra money is going towards principal, you will achieve the same results. I would rather see people become responsible for their own money, rather then letting another company budget for them. Plus when you are in control you get the advantage of skipping the extra payment if times get tight. It should also be noted that most of us aren't at the point were we should be considering paying extra on a mortgage. That will come once all your other debt is gone, an emergency fund is in place, and retirement accounts are growing.
Get Rich Slowly reminded us of another interesting way to payoff your mortgage early: pay an extra principal payment each month to get rid of your mortgage in half of the time.