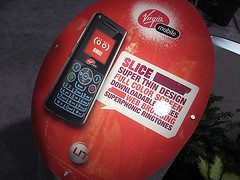 Our two year Verizon cell phone contract finally ran out on the 25th of March! It feels great to break free from the chains of a long contract. I haven't yet canceled the phone, but I did order and activate a new Virgin Mobile prepaid phone for the Rockette.  She is s a low minute user like me.
Previously I had talked about how much I would save with Virgin Mobile and how to set up a Virgin Mobile account, so I thought it would be helpful to revisit my decision. It has been about 6 months, and I have been nothing but pleased with the service and the savings. The free phone is fine, so is the call quality, and the billing. I haven't been using all of the $20 top up every 90 days, so money does roll over each top up period. Either way I won't be paying more than $80 for the whole year.
We opted for a semi-updated LG Flare for $30 as the Rockette's new Virgin Mobile phone, although there are currently three phones that are free. The phone was at our door in about two days, and we received a nice little surprise limited time offer when we signed up. Virgin is offering service for a whole year if you top-up $60 in three days. Since you agree to buy $80 for the whole year, I was sold. I bought the $60 worth of minutes, and won't have to top up for a whole year. We actually have $67.50 in the account, because we got a free $5 for singing up for automatic top up, and $2.50 for being referred. Considering that the referrer was me on our other account, and I got $10 for it, we really got about a 30% bonus after everything is said and done.

6 months ago we were paying about $400 for one cell phone through Verizon, now we have two cell phones for $140 per year. A solid $260 yearly savings all possible because of our low usage. If you use around 150 or less minutes a month, Virgin Mobile will probably save you money. Let me know if you are interested, and we both can get a free $2.50 if I refer you.
Note : The Virgin Mobile straight minute plan is now $0.20 a minute rather then the $0.18 that I got 6 months ago.