We found out last night. That's right, when I opened Quicken last night to reconcile the days transaction I noticed a $1.59 charge from a local Wawa. I consulted with the Rockette and we noticed that her whole purse was missing. Mild panic sets in, and we begin to retrace our days. The purse was most likely stolen from our car while parked outside our condo.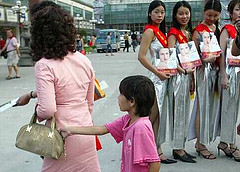 I logged onto the ING Direct website only to notice 4 other posted transaction and about 10 pending transaction that weren't ours. The charges were the aforementioned Wawa charged for $1.59, $90 from a local Target, 4 iTunes purchases for about $140 dollars, two TWX AOL SERVICE fees for $1.00 each, zubill.com for $29.95, lookuppay.com for $1.95, and 4 gas purchases for $60 dollars. 330 dollars in the span of one day. Luckily I check the account regularly so that I caught the fraud before more was spent.
There were a total of 3 debit cards and one credit card in her wallet. I quickly checked them all. Nothing on our Sunoco Credit Card, nothing on our NJM Bank debit card, and one Bed Bath and Beyond charge for $71 on our Wachovia check card.
The Rockette crawled out of bed, and we began calling all the cards one by one to report them stolen. We were on the phone the longest with ING, but the agent was kind enough to dispute the charges for us. Otherwise you can click on the little icon on the left side of the charge in the Electric Orange register to find out more information. This brings you to a screen with more transaction details where you can find a link to dispute the charge. Wachovia also quickly put in a dispute for the one charge over the phone. The whole process took about 45 minutes to cancel all of the cards.
The one thing that is helpful for people to realize is that you receive the same level of fraud protection with a debit card as you do with a credit card. Visa and Mastercard offer the same protection, except that with a debit card the money is already out of your account while the charges for credit card should be disputed before you have to pay any money. Both Wachovia and ING Electric Orange said they would credit the fraudulent amounts back into the account in a few days while the disputes are going on.
Hopefully, all the disputes clear fine and we don't have any other issues. Crisis averted with hopefully just mild damage. Protect your wallets!