It wasn't long ago that I can remember just complaining whenever I got charged fees by a company not knowing that I could do anything about it. Now I know that the consumer does have power. Every fee or even purchase prices that I come across now get questioned. The old adage of 'what's the worst that can happen' is very appropriate. The company can say 'NO', but most likely they won't.
Here are a few examples from the very recent past :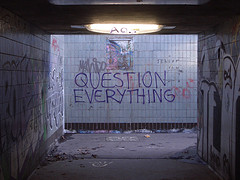 NJ Division of Taxation – I mentioned that I had a problem with my 2006 NJ taxes and they wanted to charge me over $300 dollars in penalties and interest. Well, a quick email and then a follow up letter reduced the bill about 72% to under $100 dollars.
Comcast – Installation fees and monthly services costs slashed through one phone call and a threat of cancellation. Call Comcast and save money.
Verizon Late Fee – One quick phone call got a $5.00 late fee removed with no arguing.
Those are just a few examples from the last month or two, but the list includes endless fees that you thought you couldn't get away from paying including bank charges and credit card fees. Often just asking the clerk at stores if there are any available coupons will get you discounts. The moral of the story is….JUST ASK!!! Don't be afraid that they may laugh(sometimes they do), but try it, make it habit and you will be pleasantly surprised.