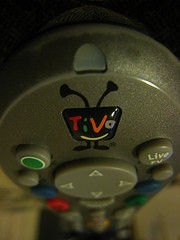 Just purchase a one year of service and you will receive brand new 80 hour Series 2 Dual Tuner SD Tivo DVR free of charge. This is not even a free after rebate program, but a free at checkout promotion. The deal calls attention to TiVo KidZone, a service that Tivo created with the help of the Parents TV Council to help tailor you child's TV viewing habits. For each new purchase using this promotion Tivo will send the Parents TV Council $25.
If you decide to take advantage of the deal, please considering using my email address in the Tivo Rewards referral email section during the sign process. It can viewed as a way to give back for helping you find the deal.  It will give me a few Tivo points to spend in their store. Use the email
in the TIVO rewards referrer box during signup.
The offer runs from September 20, 2007 to April 5, 2008, or while supplies last. You can view the Tivo deal by clicking here
and the deal terms here
You can even get another $12.50 off by using a cash back rebate service like Mr. Rebates. $10 for the Tivo referral and $2.50 as a sign up bonus, although you can't cash out until you earn $25 dollars. Just use the above link to sign up, and then go here and follow the instructions. I will cover a review of their services in a future post.
I actually grabbed a free box and a one year subscription on Thursday. Took about 3 days to get here and it is already hooked up and working perfectly. The $10 has already shown up in my Mr. Rebates account.