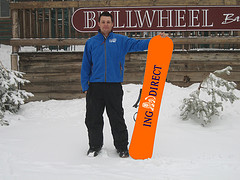 Hooray for ING Direct. I made $1000 dollars of income in 2007 with no effort! I just got my tax sheet for my ING accounts and saw that I made $99.77 from interest from my checking account and over $900 from our dozen or so ING savings accounts. I would have made $200 from the Electric Orange account, since my first direct deposit was the first week of June. Not bad at all.
Now, because of the Fed's willingness to tinker with rates at the drop of a hat, the interest rate on the checking is currently 2.25% and 3.4% for savings. The rate when I signed up was close to 4% for checking and closer to 5% for savings, so I won't expect to make nearly as much this year. I still can't argue, since I had been earning nothing on that money for years.
The other side benefit is that transfers between Electric Orange Checking accounts and ING savings accounts are instant, rather than the 2-3 days that it took when I had a linked checking account. So not only am I making money while the deposit sits in my checking account, I am also making money during the 2-3 days while the money used to change hands.
ING Direct is awesome. Best account interface that I have used, perfect stability and a reputable name with a long history. Some people like to chase the best rate; I prefer the simplicity and stability of sticking with a competitive trusted friend.
On a side note, if you have any questions about my ING setup or ING directly, just leave a comment. Also for those that do not yet have an account at ING, you can get $25 free dollars just for opening an account with at least $250. I will also get $10 for the referral.  Just Email Me, and I will send you a referral email.