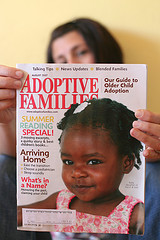 The Happy Rock Garden welcomed its fourth member on Friday night, a second adopted son Julian. I will dub him The Happy Pebble Jr. to go along with our first Happy Pebble.
He was born on Wednesday the 16th and we brought him home on Friday night. It all happened quite fast and unexpectedly which just adds to the joy and excitement! Family and children are more amazing than I could have ever dreamed. Cheers!
On a separate and unrelated side note, I will be taking requests for guest posters. I will be sleeping way too much that I won't have the time to produce the same level of quality content, especially with my MBA finishing in just over 8 weeks. Email me with a general topic and an estimated time of arrival, and I will choose a handful of authors to submit articles. Thanks.
*Note : That is not a picture of our children.