In the last post I asked some questions about the nature of Christmas spending and what we could do to change. I wanted to share some of the changes that my family has undergone in the last for years to fight the consumerism onslaught and then a few lessons learned.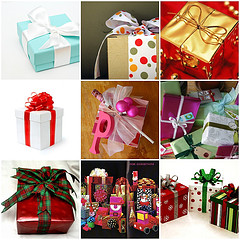 The Happy Rockette's Family
To set the stage, my wife is one a five sisters. Four of them are married, and we have 8 nieces and nephews(ages 1-6) between us. We do Christmas morning with at the Rockette's parent's house, and everyone was buying gifts for each other and the children. I remember walking into the gift room and not even being able to sit down, because of the huge collection of gifts. I think we spent well over a thousand dollars that year in gifts.
Things had to change. We started some conversations about doing a name exchange between the adults, and a year later we did it. There was a $50-75 range for each person, each person could get quality over quantity. The following year, the children still went home with a truckload of toys. This year, we also did a name exchange between the children with a $20 cap. We will see how it works out, but it is another step in the right direction.
The Happy Rock's Family
For my side of the family, we also went through a similar progression. A few years back we moved from buying smaller gifts for everyone to a $50 name exchange. My Grandmother still buys for everyone, but I think that is just the way grandparent's are! This year we are not actually giving gifts to one another, but we will pool our money together to buy an animal for a deserving family in need. Click here for the Hiefer Project catalog, if you want to learn more about what they do. I think it is a solid organization with a great philosophy.
In all, we have more than halved our Christmas expenses(and stress), and we feel more fulfilled.
Tips For Changing Christmas Spending.
Here are a couple of key observations that I gained while we changed our family traditions:
Changes, especially changes to deep rooted traditions take time. Focus on the direction of the ship more than the destination. Life is a journey.
Real people are involved. Sometimes relationships are messy. People can get frustrated, upset, and offended. We need to approach each other in love, courage, honesty, and patience. You may need to spill the beans about your debt struggles, or walk your family through the exact reasons you can't do gifts. You may even need to reassure them that this doesn't change how you feel about them. Those type of conversations will probably deepen the relationship more than gifts ever would.
People who naturally show love through gifts will be more affected than those like me who are on the cheap miser end of the spectrum and show love in other ways. This underscores again the need for patience and love.
Shifting your focus onto those that are more needy through donations of money or services can really help change perspectives. Activities like doing Angel Tree gifts as a family really bring people together.
That is how Christmas has been changing around here, what about you?