"About 25,000 people die each day from hunger or hunger-related causes, most of them children."
"The United Nations estimates that the cost to end world hunger completely, along with diseases related to hunger and poverty, is about $195 billion a year."
This is post is about shedding some light on poverty around the world. It is so easy to get wrapped up in our small world and own finances without giving as much as a thought to those who have much less around the world.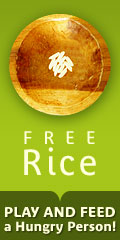 The quotes above were provided by an innovative new new site called FreeRice.com(click the banner to check out the site). The site promises to donate grains of rice to the United Nations World Food Program (WFP) for each question correctly answered in a vocabulary game. The non-profit business model will use the money from advertising to buy the grains of rice that are earned by the players. Players get 10 grains of rice for each question that is answered correctly. Yesterday, 170,885,620 grains of rice were earned by the community of players.
I am not sure that the business model is sustainable in its current form or if the statistics are very accurate, but I love the sentiment. Create a site that has intrinsic value for the users by providing fun and learning, increase the conversation about global poverty, and attempt to do something to help. The site is a brainchild of poverty.com's private owner John Breen.  Kudos!
One other intersting note is that "twenty-two developed countries below have pledged to work towards each giving 0.7% (a little less than 1%) of their national income in international aid, which would raise the $195 billion."  The US is one of them.  Click here to see a full list and the progress that has been made.
 I achieve level 35-40 in the vocab game, if any one is interested.  It takes a fair amount of guessing correctly to get that my score that high though.