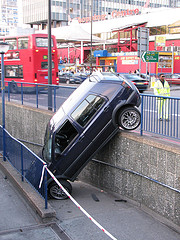 If you don't get your car serviced at a dealership it can be very worthwhile to check the recalls that have been issued for your model vehicle. At SaferCar.gov The National Highway and Traffic Safety Administration(NHTSA) provides a simple tool for viewing and researching all auto recalls. Their website provides a host of information on all recalls, documents containing manufacturer communications to dealer, recall statistics, and even a complaint system. Click here for the NHTSA recall website. You should just be able to schedule an appointment with an approved dealer, if your vehicle identification number falls with the recall campaigns range. The dealer should fix the recall problems for free.
I hadn't really given recalls much thought until I started to have some recurring problems with my autos. We have a strange electrical problem on my 2003 Nissan Murano that has manifested itself in some strange ways. A recurring check engine light problem, hesitation on acceleration after sitting in traffic for a while, poor idling, and the even a complete shutoff while my wife was driving.
The first repair was a cam sensor by an out of town Nissan dealer. They also fixed at least one recall without me having to ask. Within a few months the same problems existed again. I had the other cam sensor replaced at my local garage. After that I did some searching on the net. That is when I came across a recall for the exact problems I was experiencing. Here are the details :
Summary: ON CERTAIN PASSENGER VEHICLES, THE CIRCUIT BOARD FOR THE CRANK POSITION SENSOR OR CAM POSITION SENSOR MAY HAVE AN IMPROPER SOLDER JOINT DUE TO SOLDER DEFORMATION CAUSED BY HEAT STRESS ACCELERATED BY THE EXISTENCE OF FLUX RESIDUE DURING THE SOLDERING PROCESS.

Consequence: THIS COULD CAUSE THE "SERVICE ENGINE SOON" WARNING LIGHT TO COME ON, CREATE A NO START CONDITION, CAUSE REDUCED ENGINE POWER, OR CAUSE THE ENGINE TO STOP RUNNING WITHOUT WARNING DURING VEHICLE OPERATION, WHICH COULD RESULT IN A CRASH.

Remedy: DEALERS WILL REPLACE THE CRANK POSITION SENSORS. CAMSHAFT POSITION SENSOR(S), AND IN SOME CASES, THE VARIABLE TIMING CONTROL SENSOR(S)."
I called Nissan to at 1-800-647-7261 to see what they could do for me. They said that my VIN didn't fall within the recall! What! After a week or so of phone tag and my continually pressing the issue, I finally got the Northeast Region Customer Service Manager. She treated me nicely only to tell me go pound sand. Ok, then who do I call to complain? She explained that she was the end of the line and told me to report my complaint to the correct governmental body.
They weren't going to do anything. How great is that? I have the EXACT problem the recall is addressing, but Nissan could care less. One of the problems is quite dangerous; the engine could "stop running without warning during vehicle operation, which could result in a crash." Nissan puts my family's lives at risk, and doesn't care one bit. That sounds like a huge lawsuit waiting to happen.
I dropped the issue for a while, until the car started doing the same things a month or two later. My mechanic said it was one of the newly replaced cam sensors again, and this time he noticed the recall too. He suggested I try a dealer to see if they will fix it. To really fix the Nissan's flaws, he would need to buy the approved kit from a dealer and replace the full array of sensors, which could cost around $800. Now I am on the warpath again!
I tried another dealer again, with the same run around. I am not quite sure what the next step is, but I am considering a formal government complaint, a written letter to Nissan, and whining on a personal finance website. If anyone in the industry or anyone with similar experiences has any suggestions, I am all ears.
What I do know is this: I have owned multiple Nissan cars, but I won't buy another one. The old adage is "don't by a car that is the first year of a new model". It is certainly holding true for the Murano.
Update November 2010
We finally sold the Murano.  The expenses and hassle continued to build until we just couldn't take it anymore.  It had a major oil leak that dealers wanted thousands to fix.  We had to change a catalytic converter and cracked manifold.  The sitting in traffic hesitation only got worse.  From what I could tell it seemed like the CVT(Transmission) problems, which are widespread.   I had read something about these transmissions having an internal temperature sensor  that overheats as a cause of the dangerous hesitation, but I wasn't sure.  Nissan did extend the transmission warranty to 120,000 right before I sold it, but it was too late by then.  It all got too much to handle; we traded the Nurano for a 2008 Honda Pilot and haven't looked back.  The pilot isn't as nice looking and is missing some options from the interior, but nothing has broken since we bought it.  That is more than I could say for my Murano which just sucked time, energy, money and put my family at risk.