"Scientists surveyed the Yale class of 1953, and found that 3 percent had written down financial goals for their futures at their college graduation. When the group reconvened in 1973, this 3 percent of the class that had started their careers with some kind of plan controlled more combined net worth than the other 97 percent combined." – Ririan Project : The 7 Habits of Highly Successful Moneymakers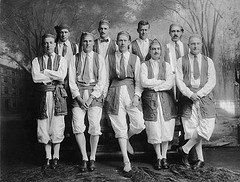 After I read that, I started scribbling down my goals! Just kidding, but that is some inspiring evidence for writing down your financial goals. Such good evidence that I wanted to take a look at the study to get a better picture of what was going on. I went on a search.
What I found was that Zig Ziglar and Tony Robbins quoted the same study in their writing, but I couldn't find any information on the real 1953 Yale study. It turns out that the story is urban legend, passed from one self help guru to another. Here is an article at Fast Company that does a great job trying to find the real study and wading through the folk lore.
Ok, now that was disappointing. It doesn't mean the Yale story hasn't helped many people over the years, but it really takes some credibility away from the story and some of the famous self-help gurus who quoted it. In the age of the internet it is pretty easy to find answers, but it is also easy to get duped. Now go out and right down some financial goals! I will bring some hard evidence on the affects of goal setting in a future post.
As a side note, I also found that the subliminal advertising message scare was based on another urban legend that sited a movie theater that generated increased profits from telling people to "Eat Popcorn, Drink Coke".
Source: If Your Goal Is Success, Don't Consult These Gurus
Source: Self-Help Snake Oil and Self-Improvement Urban Legends
Source: Snopes – Subliminal Advertising