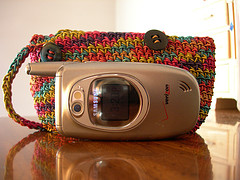 Did you know that you can sell your old cell phone that you don't use anymore for cash? I didn't, but as I looked into a comment I came across a couple sites that give you cash for cell phones. I had heard of sites like Cell Swapper where you can sell your phone and plan to avoid termination fees, but I didn't realize some sites will give you straight cash for phones without plans.
Sites like Simply Sellular, Cash My Phone*, and Phone Is Cash buy old cell phones and resell them. The site Second Rotation buys all kind of gadgets, not just cell phones, and they were also featured on CNET. Our current phone, an inexpensive LG VX4650, is bringing about $9 just to give you some perspective.
Unfortunately, I don't have an unused cell phone to sell and write a review, but I would love to hear any reader's success stories. Also, here is a site that did a review of all three sites about a year and a half ago.
Of course, you could use craigslist or eBay and you might get a little more, but they will probably lose the ease of use battle. Recycling also helps the environment by saving on landfill space and resources. Enjoy!
*Note – (Update 5/2008)Multiple readers have commented about problems with Cash My Phone.   There seems to be a pattern developing, and some verifiable information on the web about less than stellar performance.