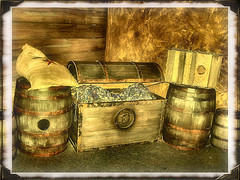 A few years ago I saw an article about state agencies having millions of dollars of unclaimed cash and property. The sad part was that no one knew the money existed or how to find it. One the article's advice I searched the Pennsylvania State Treasury database and I found that The Happy Rockette had two unclaimed checks from college. The one was about $200 and the other was just a couple of dollars. You feel like you hit the lottery, even though it was money that was rightfully yours.
"Common types of unclaimed property include:
Bank accounts and safe deposit box contents
Stocks, mutual funds, bonds, and dividends
Uncashed checks and wages
Insurance policies, CD's, trust funds
Utility deposits, escrow accounts"*
In our case The Happy Rockette had graduated college and left before one of her side jobs cut all of her back paychecks. Our story doesn't quite have a happy ending, since our requests to the state for the money ran into bureaucratic problems that we haven't been able to resolve.
So let's see if anyone can find any money for themselves, family, or friends. Feel free to leave any success stories or questions in the comments.
MissingMoney.com – Free web search of many of the state's unclaimed property websites. Click here to see which states participate.
BetterBudgeting.com has an updated list of the links directly to the state sites.
Please note that there should be no fees associated with claiming the property, since you should be dealing directly with state governments and other agencies.
*Source – MissingMoney.com