For the frugal person with a little bit a tech savvy, the internet provides amazing access to deals that you would never be able to find otherwise. For learning purposes I wanted to run through the process I used to save 55% on an external hard drive.
After years of procrastination I finally decided that we should be backing up our computer's hard drive. The amount of pictures and other important data was just too much to bear losing. Unless you have been through a major loss of data, backing up never seems important enough. If you aren't backing up, please take this as a friendly reminder to start.
I started by searching my usual deal tools to decide what I wanted and how much I wanted to pay. First, I loaded up Amazon to decide which brands of external hard drives would be good enough and their general pricing. Other sites like Epinions and CNet are also very valuable. Western Digital and Seagate seemed to top the list and were around $100 dollars for the most common sizes. Reviews were good enough, and I was ready to find a deal. Click here for some example hard drives here :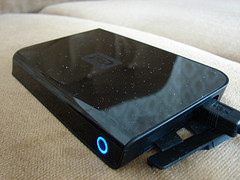 To find a deal I started by searching Slick Deals and Fat Wallet. If you haven't heard of these sites, bookmark them. They are communities of hardcore internet savvy people that are constantly scheming about, posting, and rating the hottest deals on the net. I found some decent deals for larger drives, but I really didn't want to spend more than a hundred dollars. I was patient and by the weekend I had found a good deal. I saw a few posts that Staples was liquidating some smaller size drives(60gb,80gb,120gb), so I went to my local staples and saw an 80gb WD Passport for $64.50 on clearance.
Not bad, but the story doesn't end there. A little more searching revealed that it was customer appreciation week, and by printing a PDF coupon I could save another 12%. I also saw mentions of a $30 off a $75 dollar purchase at Staples. I couldn't find a link to anywhere, so I checked eBay and found the exact coupon with instant email delivery from a reputable seller. The recent feedback said the coupon worked, so I was willing to take a chance. I paid the seller $6 for their time spent finding the coupon and one 15 minute trip later I came home with two packs of nice pens, a 4-pack of tape, and the 80gb drive for $43 dollars. Slick deal!
I use a similar strategy for most of my 'major' purchases($50 or more). On smaller purchases, the time investment usually isn't worth the savings.