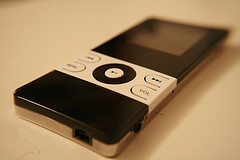 For those of us who are interested in legally downloading music, Amazon has recently unveiled their DRM free MP3 download service. "DRM-free means that the MP3 files you purchase from Amazon.com do not contain any software that will restrict your use of the file." I figured I would try out the service and give it a review, because being able to inexpensively download a single song saves me from buying a whole CD when I just want one song. It has even helped my avoid albums that I wouldn't have liked.  Sometimes just listening to the sample of the tracks on a CD can give you a sense of whether you want the album or not.
Now iTunes seems to have some competition. The prices are very similar with most of the popular songs costing $0.89 and all other songs costing $0.99. If you are a CD junky, you can definitely save yourself some many by going electronic as most full albums are under $9.00.
What I like to see is that the record companies are finally learning that if you make it easier for people to buy their goods, they will actually make more money. I don't own any Apple equipment, so downloading songs in their DRMed format was a hassle for me. Another recent entry that is shaking up the market is Radiohead's new album which is being offered on there site for whatever price you want to pay, even free.
Here is the overview the simple buying process at Amazon :
1. Select the song or album. The search feature is pleasant to use. Click here for an example. Each result has a play button next to it, so that you can hear a snippet of the song before you buy. Selection is solid, but definitely not top-notch.
2. Click 'Buy MP3' and you are whisked in wizard like process very similar to the normal Amazon check out.
3. I skipped downloading the Amazon Downloader, and in four more clicks I had the song on my desktop in MP3 format. Note: The Amazon Downloader is required for buying albums, because it queues the downloading of the songs. It will also provide the added benefit of importing the songs into iTunes or Windows Media Player. The 12mb song I downloaded took only a few seconds on a cable connection.
Here is a smattering of popular songs if you want to hop in and check it out :
Crank That (Soulja Boy) [Travis Barker Remix]

Don't Know Why – Norah Jones

Big Girls Don't Cry (Personal) – Fergie

Comfortably Numb (1994 Digital Remaster) – Pink Floyd

American Pie – Don MaClean

Rehab – Amy Whinehouse
One final thing to note is that Amazon does not allow re-downloading, so remember to back up. Adding a re-downloading option would definitely be a very nice to have. For more information on the service, consult the FAQ.
For me, I will still buy used CDs off Amazon or eBay, but buying single digital songs at Amazon provides me with greater flexibility and options at a similar inexpensive price. This type of service makes quickly and easily recording a mix CD for The Happy Rockette possible.
Does anyone else out there use iTunes or Amazon to purchase their music?