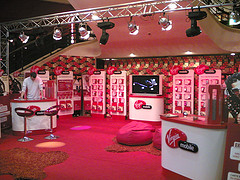 After my research into prepaid cell phones, I decided to add a small amount to our monthly budget and sign up for a Virgin Mobile cell phone for myself. I figured I would use about $10 a month in minutes. Once we can cancel our Verizon contract, and The Rockette gets a pre paid Virgin phone or monthly cell phone costs should drop from about $45 dollars a month to $20. After a week I am right on pace with about 14 minutes used.
The process and experience of signing up was so simple it was amazing. It was a two step process :
Go to the appropriate Virgin Mobile site and pick out a phone. Here is the link to the Virgin USA site. As with most prepaid plans the selection of phones is usually slim. Virgin offers 11 phones that do a good job of providing a wide variety of features. They have a nice cell phone comparison feature that should help the process along. I picked out the Nokia Shorty, checked my coverage area, and ordered it. The cost was $21.70 with tax, but was essentially free with a $20 airtime rebate that is applied when you add minutes. I could care less about the particular phone as long as the battery lasts a while and the call quality is good. The reviews on that phone were solid, and so far I am quite happy with it. It has been a week, and I still almost have full battery life left and I haven't had any call quality complaints.
The phone arrived in three days. I cracked the plastic and quickly glanced at the manual. I then went onto the website to activate the phone. After entering the serial number, you pick a minute plan and add your first minutes. I went with the flat 18 cents a minute plan(5c text messages) with no roaming charges and 'topped up' for $20 dollars. It was at this point that the free $20 of airtime was applied, and the first top up was essentially free. If you sign up for one of their automatic top up plan by supplying a credit/debit card, they will give you a free $5 on your next top up. Next you type a code into you phone, and you are ready to go. The whole process took about 5 minutes and I was able to start making calls instantly.
Simple as that, no contracts, no hassle. Just add $20 every 90 days, and your account stays active. Service in my area has been perfect, and the call quality is great. So far I couldn't ask for anything better.
(Virgin Mobile does have a kickback program that will give me free airtime for each sign up.  If you are interested, send me an email for the code)