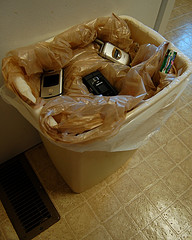 18 month into our two year contract our Verizon LG VX4650 cell phone began to act up. Gradually, the cell phone seemed to hold a charge for shorter and shorter periods of time. Then one day after only ten minutes on the charger the phone was blinking 'Charge Complete'. I knew it couldn't be fully charged, because the phone was just dead and it normally takes over an hour to charge. The phone thought that battery was fully charged, but I would only get one or two battery bars. The phone was almost useless, except if it was plugged into a car charger.
I called Verizon and they said I have to go to a local store for battery problems. At the store they confirmed it was the battery, and offered me a replacement for $39.99. I asked for a deal, and they weren't having any of that. I persisted and he finally asked if I wanted the battery in an exasperated 'I just work here tone', and I replied with "I think I could find it for much cheaper online". I didn't really know if I could find it cheaper, but I was running off the assumption that dealer retail stores severely mark prices up and that the net offers some great deals.
Little did I know, I would find the exact battery for my Verizon cell phone on Amazon for just $0.60. Click here to see the deal page. The great thing about the internet is that there were a couple of reviews, most of which were positive, reassuring me that it wasn't a scam. Since it was sold through an Amazon third party Eforcity, shipping was $5 for a total of $5.60.
The catch here was that more expensive and name brand is not always better! The battery sold directly through Amazon was about $9.00 and the reviews were nearly as good.
I received the battery in a no frills shipping envelope in about 3 days. Popped the battery right in the phone and hooked it up to the charger. In about an hour the phone was fully charged and showing a full battery. The phone now lasts about a week without having to be charged, just like 18 months ago. The deals you find on the web at places like Ebay and Amazon are incredible; you just have to be creative and get comfortable with the web.
Similar deals can be found for Sprint, AT&T, T-Mobile, Motorola, and other such cell phone batteries.