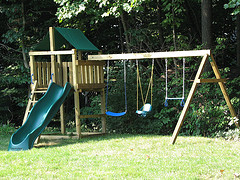 Here are some good articles from around the personal finance community :
Five Cent Nickel shares his story about doing the right thing with found money. It is always encouraging to see others live right.
Debt Beater shares his top five immediate benefits for starting a budget. I totally agree with budgeting starting good communication and exposing problem areas, even though it takes time to find your budgeting groove.
Consumerism Commentary shares a cool link that lets us know how many earths we would need if everyone in the world lived like us. My score was 2.2 earths. It was pretty eye opening to think I can have so much, because others have so little(even if it isn't totally true).
Finally three great articles from the Silicon Vally Blogger : investing mistakes, a renting vs. buying discussion, and expand your yard by tearing down fences(my favorite). Driving through suburbia it sometimes seems silly that every house has a fenced in $1,000 play set and a beautiful park down the road. Other times I yearn for my own!