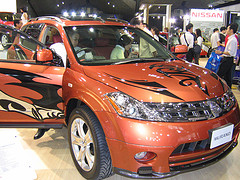 Last post we talked about changing the way we talk about car loan debt, now let's talk about avoiding the debt in the first place.
The picture to the right is the car we own today. Ok, ours is just a normal bronze Murano, but you get the picture. In this post I wanted to outline the strategy we followed after going $15,000 for a 1999 black on black Toyota Celica.
First off, I didn't realize it until years later, but buying the Celica was a mistake. My wife liked the car so much that she may disagree, but going into $15,000 of debt in the first few months of marriage was not a wise choice.
The payment was just over $300 dollars a month, but the loan was our highest interest debt and was paid off in two years. During that time we decided not to go into debt again. We had a lot more debt to pay off, so we snowballed the freed up money into other debt.
Fast forward two years, and we were just about out of debt and had a brand new baby boy. The ride home from picking him up was quite a sight. The rear bucket seats of a sports car don't accommodate a car seat well. The Rockette was smushed into dash, just so the car seat would fit.
We needed a new car, and fast. We didn't have the money for the nice lower mileage SUV that we wanted, so rather then going into debt, we traded the Celica and paid cash for a four door Ford Focus hatchback. After a year we were quite unhappy with the Focus; to us it was a cheaply made lemon.
With no debt, we had been stocking away cash at a good clip. Finally, we traded the Focus and paid 8k in cash for a 2 year old bronze Nissan Murano. We had the car we wanted, and were able to avoid going into debt while doing it. Next post I will dissect this strategy, and share some tips for staying out of auto financing.