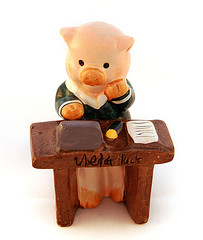 There was some great stuff out there this week. Here are my favorites :
Saving Advice offers a beautifully pictographed list of 25 personal money confessions.
Blueprint For Financial Prosperity gives as a quick description of 10 top personal finance books. The description on Your Money Your Life makes me want to read it even more.
One Frugal Girl starts a discussion on whether or not debt is an integrity problem. Bankruptcy usually is in my opinion, and I can see consumer debt bordering on an integrity issue. Even if we don't come to conclusions, I think the discussion is useful. Integrity needs to be talked about more
Consumerism Commentary takes a through a misleading statistics example revolving around consumer debt. Again I love the discussion. Being critical about statistics is utterly important in our age of media bombardment. Like the 50% of marriages that end in divorce statistic that gets tossed around so much. I haven't found the basis for that one yet.
Philip at Wise Bread challenges us on what to do when you aren't happy with our current job. I though the interview questions were brilliant, I hadn't done that thinking yet!
Finally, two more contests one for a copy of Quicken and one for $300 or more in cash.