I cleared a hurdle I had been putting off for about three weeks now; I spent about two hours tonight bringing my Microsoft Money records back up to date. It was two hours I didn't have, but two hours that were sorely needed. In mid July Microsoft decided that their Money servers need a complete overhaul. Since that time I haven't been able to download my transactions for my ING Electric Orange checking, savings, or my one credit card. With the July Cash Spending Experiment in full swing, I wasn't too worried about it since my normal way of operating wasn't needed. Now with July over, I finally needed to bite the bullet and fix what they broke.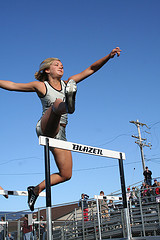 To be honest I did spend about 20 minutes searching for better personal finance software options, and thought about upgrading from Money 2005 to 2007. I didn't switch or upgrade, because I honestly don't have the time and energy to invest in learning a new tool. Plus I have three years of budgeting and finance information in Money format. I would love to entertain any reader suggestions about possible good transition software from Money. With that said, Money suites my needs fine.
After some minor frustration and keyboard pounding I was able to trick Money into being able to access my accounts again. The big tip was to go to the financial institutions and download the transactions manually to help Money learn. Believe it or not, it really helped. Once that was done, I had probably 100 transactions to reconcile and categorize. That is my favorite feature of personal finance software. It really helps my conceptualize and track how much money we are spending and were it is going. Money can also do some simple charts which not only look pretty, but can serve as good marriage communication tool. I finally finished up by taking care of some bills.
I could have really used the two hours for other activities, but it really feels good to have that squared away again. The next big task is to square away the pile of receipts from all the July cash spending, and see if we actually saved any money.