This is the first in a recurring series of posts called "Principles in Action". The idea is to show positive life principles at work in my life and in the lives of others. The story will illuminate a practical application of a positive life principle and the effect of that principle in action. I welcome any readers to email me(use the contact page) with principle in action stories. If the reader wants and it ties into the theme of The Happy Rock, I will post it to the community so we all can learn and grow.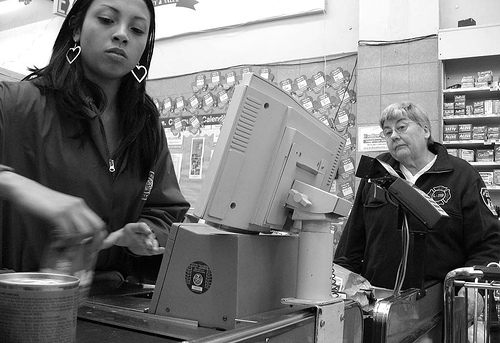 Treat Others Like They Have Value
Last Monday I was at the check out line of our local Wegman's grocery store. When the 19 year old check girl asked the normal 'How are you?', I decided to actually answer the question rather than mumble something non committal and go about my business. Being the introvert that I am, I often rush through the check out line focused on my life and trying to avoid eye contact as much as possible.
This particular day I shared how my wife and I were packing to leave for a family camping trip to upstate Pennsylvania. As a side note, I often mention my wife and family quickly in the conversation; mostly because I love them and like to talk about them, but also to relieve the male-female tension that can often arise. I think it helped this young girl feel more comfortable, and she opened up about how she had recently returned from vacation with her family in Virginia. We both seemed to enjoy our little conversation, and checking out went by quickly. I, of course, paid cash.
I left feeling positive, and I hope she left feeling valued as a person and as a check out clerk. I didn't really think anything of it, until I was almost out of the door and the cashier came running after me. I had forgotten a paid for $5 bag of organic grapes. I thanked her, and she ran back to the check out counter.
My question is this: had I not treated her with value, does she run after me? Maybe, maybe not, though I wouldn't have been surprised if she would have waited for me to come back. I wouldn't have remembered until I got home and would have lost the $5 for the grapes. What do you think?
If you liked this post, subscribe to The Happy Rock's feed.