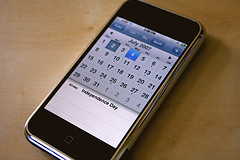 Most of us intuitively know that when the first big heat wave hits our town, good prices in the air conditioning and fan aisles will be few and far between. The question remains though, when is the best time to buy an air conditioner? Well, now we know. The best time to buy air conditioners is August, along with computers, lawn mowers, and camping equipment. New cars are cheapest in November and December. Save on iPods in February or September. Where am I getting this you ask, Consumer Reports Calendar of Deals article.
Consumer Reports experts have taken the time to compile a calendar that reveals when we historically see the best sales for certain items. It is general guide that doesn't preclude us from watching weekly circulars, but it does provide us with some valuable guidelines for getting the best sale price.
Save money now with the Consumer Reports shopping calendar.
The article also mentions three other tips that didn't fit well into the calendar format.
Airline tickets tend to be cheapest on Wednesday when airlines try to sell the unsold seats for the next week
CDs and DVDs usually come out on Tuesdays and stay on sale for 1-3 weeks.
Jewelry is rarely on sale before Valentine's and Christmas.
Has anyone else noticed any other price patterns that aren't listed on the calendar?