I don't normally do a lot of link posts, but I think that is going to change. First, I totally appreciate whenever someone publicly appreciates my work. Second, it builds community which is a key part of growth. Third, I think it will provide value to The Happy Rock community. Hopefully the links will be helpful and informative. If you don't feel like these type of posts are providing value, please let me know. If you appreciate them, again let me know.
There were a few contests that I came across in the last few weeks that I thought I would bring some attention to.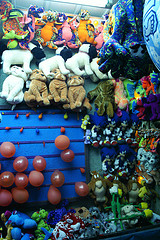 Mark @ Financing Your Family is offering a 500 word review for the comment with the best use for $100 a month.
Christine @ Create Business Growth is starting a weekly comment contest for a randomly drawn relevant comment. This week's prize is $50!
INVESP Consulting is hosting another random drawing for people who subscribe to their feed and are there long enough to read the secret post sometime in August. The prize will be $300, $400, or $800 depending on some conditions.
And now a couple a great posts from the finance community.
No Credit Needed had the best article of the week with 7 questions to assess whether you are really want to beat your debt.
Digerati Life has a well done article on sub-prime lending. The list of how people become victims is applicable to everyone seeking a mortgage.
If I kind find some Brasso, this article about fixing scratches on CDs will come in handy.
Finally, Trent @ The Simple Dollar has a nice article on how he helps his 20 month old cope with wanting to buy toys. It is very nice to see other thoughtful parents in action.