"Cheaper Than Cheap" is a recurring tip series about frugality. The idea is to provide helpful frugality tips that border on fanatical to the point of being humorous. Love them or hate them, let's hear what you think.
Cheaper Than Cheap Tip #2 – Hypermiling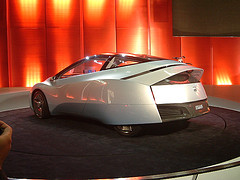 In the age of $3.00 /gallon gas we are bombarded with tips for increasing our fuel economy. I have mentioned how keeping your tires inflated can increase safety and fuel consumption. Other common tips for better gas mileage include using cruise control, avoiding traffic, and driving less aggressively. Hypermiling takes getting the best MPG to the extreme. Take the HybridFest 2007 in Madison Wisconsin as an example. The contest has competitors drive the same course and compete for the highest MPG. The winner Wayne Gerdes had an astounding MPG of 180 over the whole course. Hypermiling was started by hybrid car owners, but the tips are easily transferable to 'regular' cars. I am a novice hypemiler, but have learned a good deal through some simple research.
This article from May about hypermiling highlighted some of the most well known techniques. Some of my favorites are :
Ride on the paint to save from friction
Over inflate your tires
Place cardboard over your radiator, because a cold engine uses more energy
Drive with your windows closed and your AC off
Park at the highest spot in parking lots, so you can coast out of the spot
Shift into neutral or shut off the engine at stoplights or even on large downhills
Check out the full article for some other creative ways to save gas. Note that the safety and usefulness of some of these tips is definitely under debate.
Here is the list of other great resources I came across during my research.
Two news articles about the phenomenon @ CNN and Washington Post
Six steps to better fuel consumption @ hypermiling.com
Popular hypermiling sites : CleanMPG, GreenHybrid, and InsightCentral
Let us know what you think of hypermiling by taking part in the Cheaper Than Cheap poll.