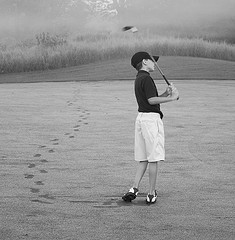 This is a guest post by Double Eagle over at @ Life in the Rough. Life in the Rough is a golf blog. One of the best in my opinion. A good place to visit if you are looking to learn a few things about golf or drop a a few stokes off of your game. The golf tips are intermixed with his personal journey to fulfill a dream by becoming a golf professional. Double Eagle is very active in his comments section and enjoys answering his readers questions. Lend him some support by checking out his site.
When The Happy Rock put out the word that he needed some guest posters to take up the slack while he's on vacation, I thought it would be a great opportunity to bring the world of golf over here.
As everyone knows, golf can be an expensive hobby (or lifestyle, in certain extreme cases). Not everyone infected with the golf bug has the benefit of wealth, so it's good to find ways to help our money go further so we can keep playing the game, and more importantly, keep playing it at the frequency we would like.
Here are ten ways to save money on golf.
Use knockoff clubs

. These are the off-brand clubs that cost a fraction of their name-brand counterparts. Are these clubs as high quality as the name brands? Of course not. But, if you're on a golf budget they're more than capable as substitutes. This is especially true if you have a high handicap, where you're not getting the much value out of the tour-quality clubs anyway (and in some cases they're doing more harm than good to your game).

Look for X-out balls

. When golf balls are manufactured, they go through quality assurance inspections where balls with minor blemishes are removed from circulation. These balls are normally perfectly playable and the issues are strictly cosmetic. The good news is that manufacturers offer them at a discount to recover some cost, instead of putting them on the trash heap. A dozen Titleist Pro V1 balls costs around $45 new, but a dozen X-outs can be had for around $30.
Along those lines,

look for logo overruns

. Often, companies, courses, individuals, and the like will order balls with custom logos or writing on them. Sometimes during the manufacturing process, they will print more than the customer ordered. These balls end up getting sold at a discount. They can be found at national retailers like Golfsmith. It seems like early in the season is the better time, but you can find them all year if you look hard enough.
If you demand band new,

look for the lower end ball selections

. It's tempting to play the balls that the pros do, but if your handicap is high, then play a ball that's more appropriate. You probably don't have the skill to take advantage of the sophisticated characteristics of the better balls and probably also tend to lose them at a high rate.
If you play frequently, think about

getting a membership at the course where you play

. It's hard to part with that lump of cash up front, but consider a lower-end public course where a membership might cost $1,000 but where it costs $30 per round to pay each time. You only need to play 34 times in a year to make the $1,000 worth while. Any more than that and you're saving money.
If you hit balls at the driving range frequently, check to see if they have a

pre-paid range plan

. My course offers a pre-paid plan at $400 per year. This sounds like a lot, but at $10 for a large basket, any more than 40 sessions and it pays for itself. That also sounds like a lot, but I go to the driving range at least 3 times per week in the spring, summer, and fall and any time the weather permits in the winter. Some ranges may not offer a standard plan but might be willing to negotiate something with you.
Instead of buying the latest and greatest irons and drivers every year, stick with your old set and save the money for a

series of lessons

. You might think, "how does spending money on lessons save money?" Well, I see too many people chasing the next miracle club that promises to cure slices and every other golf malady. Unfortunately, this is rarely the case for most players. Spend the money on some lessons, fix your swing, and you can stop buying all the latest and greatest clubs. You'll be happier and will spend less time drowning balls too (which adds to the savings).

For a golf vacation on a budget, consider some of the big golf destinations

like Myrtle Beach, South Carolina. It's no Pebble Beach or St. Andrews, but the area is saturated with a huge number of high-quality courses that you can play at rates that will surprise you. Because of all that competition, you'll find that service is great and the course conditions are excellent. There are some stinkers out there, so do some research before hand. I went there in 2001 with three other players and we had a condo on a golf course for four nights and played rounds at two excellent courses and two average courses, all for $400 per player. If Myrtle Beach isn't your style, you can find golf hot spots in Florida, Arizona, Nevada and in many other places in the U.S. (and in the world, for that matter…Scotland, here I come…)

When planning a buddy trip, try and convince more people to go

. It makes things a little more tricky to organize, but you can often times find discounts on packages with larger groups. And if thrift really drives you, you might be able to negotiate with one of the companies who sets up the package deals to include you at no cost if you agree to bring a certain number of players. Something like a buy 15, get one free deal.
When your birthday approaches, check with your favorite courses to see if they offer birthday specials. Often, courses will offer a free round of golf on your birthday, sometimes with a window of seven days on either side. If you plan it right, you can go on a two-week golf binge at a bunch of courses right around your birthday, all for free.
These ten tips should help you save some serious cash without having to give up the game you love to play. Keep an eye out and there are even more cost savings to be had. Good luck and hit 'em straight.
-Double Eagle
Does the frugal community out there have any other tips to share?
If you enjoyed the guest post, please consider checking out Life In The Rough or subscribing to his feed.