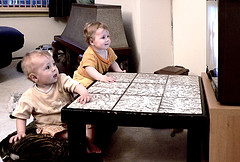 Yesterday I posted some eye opening statistics about TV viewing. Today I wanted to wrap up the canceling cable experiment by searching the blogosphere for some bloggers that had already tried giving up cable or had relevant posts. Here is what I found :
Gary Lee just recently canceled cable and is still adjusting.
Boomie @ The Wastrel Show downgraded to basic cable just a week ago.
Lazy Man tried to hack a cable free solution.
Clever Dude talks about not upgraging his viewing experience.
FMF @ Free Money Finance admits he doesn't have cable.
And finally Trent @ The Simple Dollar discusses 10 reasons to cut out TV in one of his most popular articles. He then talks about dropping cable in a later post.
Enjoy