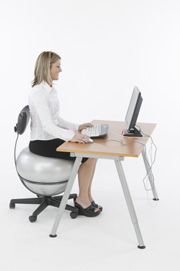 A funny thing happened as I was about to get in the shower this morning, I noticed that there was a little definition to my upper abs. I am not talking about a Muscle and Fitness 6-pack here, but maybe a 1-2 pack developing! You're thinking "big deal"………the trick is that I haven't worked out in months.
How did I do it? With the ingenious invention of rubber and air shown on the left. That's right, I started sitting on a plain exercise ball at work(not the odd contraption to the right).
The transition started when I got tired of sitting on a chair at my computer for 8 hours a day. I tried standing at work for a month or two, and that was good most of the time. The only downside was when you were tired or really didn't feel like standing. Changing the desk to sitting level wasn't an easy task.
Then I came across this great article over at Gearfire, and I was sold.
It has been a little over a month since I ordered a Valeo (75cm) exercise ball from Amazon for a little over 11 dollars(free shipping with Amazon Prime). The ball came with an adequate pump, measuring device, and exercise poster. I brought it into work and pumped it up, and decided to jump right in. I will warn you that the pump makes an annoying whistling sound for the 10 minutes it take to pump up. The pumping created a lot of inquisitive visitors to my cubicle. Being in moderate physical shape I ditched my chair and sat on the workout ball 40 hours a week. It has been about 5 weeks, and all I can say is give it a try!
Here is my analysis :
Pros
Happiness Factor – This is one I didn't see coming. I was smiling as I bounced around on the ball. It is a great feeling receiving happiness from such a little change in your life. As time rolls on this effect may fade some, but it has been the best part of the change for me.
It Works – I don't have scientific data, but I do have observable subjective data that points to a strengthening of the core and burning of calories. There has been a noticeable change in the composition of my abs and obliques. Less fat and a little more muscle.
More Energy – I only felt tired twice in 5 weeks versus close to once a day in a normal chair. With a little bouncing, energy returns and so does a smile.
No Effort – It is not often that you can hack your life to get positive benefits out of everyday activities. Sitting on the ball hasn't been strenuous or bothersome at any time. Some people may need to work up to a full day, which would require a little more effort and some fatigue(after that it's smooth sailing). I am proud to report no falls, although the occasional stumble will inevitably happen.
Stretch Factor – Because of the added mobility, I found myself compelled to do little stretches throughout the day. My hamstrings are especially grateful.
The Talk Factor – It will definitely bring you some positive attention, and some sideward glances. Personally, I have enjoyed the "ball talk" and the influx of people wanting to try it out. Breaking the mold of a traditional business chair will garner you a little attention.
Cons
Odd Factor – The exercise ball solution may not work in all types of business atmospheres or for all people. I enjoy being odd and breaking the 'rules' and am decent shape, so it worked for me. I have read some people with back problems who thought it was great.
Insurance Factor – I am not sure companies like the idea that employees could get hurt while sitting.
Doesn't Force Good Posture – I have read a couple places that sitting on an exercise ball forces good posture, but I don't think that is true. The ball will definitely remind you much more often to have good posture. It is difficult and maybe a little dangerous to sit on a ball with bad posture, so it forces you to think about good posture often. I guess it is really a positive that it encourages better posture, but my negativity comes from the expectation that it would force good spinal health. I will add that when I sit with bad posture my upper back will get a little tired and stiff.
Given my experience, the benefits far outweigh the negatives. At least a half dozen people said they might try, but none have stepped up to the plate. Will you?
Email or comment if you have any questions, comments, or need some gentle encouragement.
If you aren't convinced yet to buy a fitness ball as a chair, find some more motivation by watching a hilarious clip from The Office.